by Ariel Mitchell, dramaturg
One of the main reasons to devise a piece of theater is to get a feeling for the place where the company chooses to conduct interviews and the people who make it up. How do we deal with loss differently in Provo, UT than in Manhattan, NY or any other place in the world? We are a different community made up of different groups who hold different values. But funny thing about this going out into the community… we are learning new things about the place that we thought we knew.
Here are some examples:
Provo…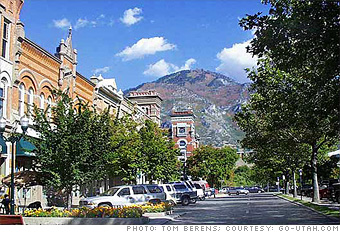 …is the third largest city in Utah.
…is named after a fur-trapper from Quebec named Etienne Provost.
…was founded in 1849 by Mormon Pioneers as the first Mormon settlement in Utah outside of the Salt Lake Valley.
…is the home of the Church of Jesus Christ of Latter-day Saints' largest missionary training center.
…will be one of the only cities (along with South Jordan, UT) to house two LDS temples.
…has a 322 foot tall Y on the Wasatch mountains behind the city to the east.
…made Forbes' list of the top ten cities to raise a family in 2010.
…was the home of the famous Osmond family (and still is).
…has a law that if a snowball is thrown within city limits the offender will receive a $50 fine.
…has an ice rink that was used in 2002 Winter Olympic Games (Peaks Ice Rink).
…is the hometown of the pop rock band Neon Trees.
…was ranked number one in city optimism (having the most residents who are hopeful for the future of the city) in a Gallup's 2012 poll.
…has opened up to a bunch of college kids roaming around the street conducting interviews about losing things.
We can't wait to learn more.
If you want to read some more cool statistics about Provo check out THIS SITE.
Or just fun things to do.